Archangel Raphael - Divine Healing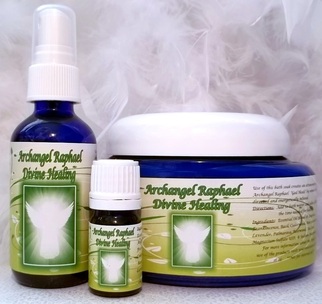 Click to Enlarge
Archangel Raphael "God Heals"
Archangel Raphael of Heaven and the Healing Angels
will help you to:
Release all worry, doubt and fear so that you can feel better emotionally, physically and mentally.


Bring balance to the heart chakra for the ability to experience harmony, love and wholeness of body, mind & spirit.

Guide you in finding people or information to help with any specific healing that you may need.




and much more.......just ask!
Ingredients: Essential Oil Blend of Angelica, Frankincense, Basil, Cedarwood, Rose Geranium, Lavender, Palmarosa, Rosewood. Distilled Water, Almond Oil or Sea Salt, Magnesium Sulfate USP & Sodium Bicarbonate.
**Not for internal use**
Each Archangel Essential Oil Creation is available in:

2oz Misting Spray Essential Oil Blend

5ml Essential Oil Blend with almond oil
16oz Bath Soak
5ml Pure Essential Oil Blend (for diffuser or practitioners)
More about Archangel Raphael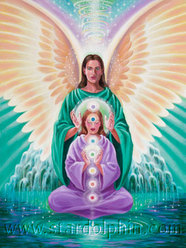 Archangel Raphael is a master healer. Anything that you can imagine someone doing in the physical can be done spiritually.
Uses emerald green healing light or balm
Does spiritual surgery
Suggested Invocation:
"Archangel Raphael of Heaven, I ask for your assistance now in healing my life. I release all worry, fear and doubt to you and allow you to return me to perfection in all ways, time and directions. I know that it is God's Will for me to have perfect health and happiness Now. Thank You! Thank You! Thank You!"