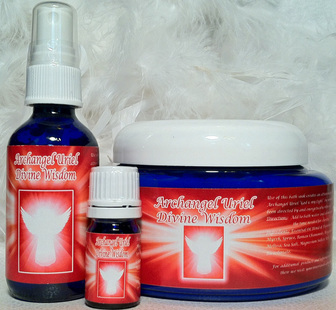 Archangel Uriel - Divine Wisdom
Archangel Uriel -
"God is my Light"
Archangel Uriel of Heaven will:
Clear old negative thought patterns from you mind and any remnants in your body..

Record all of your wishes and carry them to Heaven.
Bring you fresh creative ideas or ideas on how to resolve any conflict.

and much more.....just ask!
Ingredients: Essential oil blend of: Myrrh, Frankincense, Spruce, Roman Chamomile, Bergamot, Melissa.
Distilled Water, Almond Oil or Sea Salt, Magnesium Sulfate USP & Sodium Bicarbonate.
**Not for internal use**
Each Archangel Essential Oil Creation is available in:

2oz Misting Spray Essential Oil Blend

5ml Essential Oil Blend with almond oil
16oz Bath Soak
5ml Pure Essential Oil Blend (for diffuser or practitioners)
More about Archangel Uriel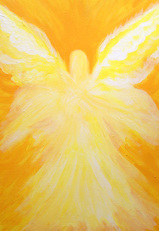 Archangel Uriel and the Angels of Wisdom helps us to have control over our thoughts and reactions.

Suggested Invocation:
"Archangel Uriel of Heaven shine the light of God's truth into my mind so that I have perfect clarity & understanding. Help me to have fresh creative ideas, learn new information , solve problems, and resolve any conflict. Align my will with the Will of God before I make any decisions. Thank You! Thank You! Thank You!